Community Involvement
As Designscapes Colorado has grown over the past two decades, we have maintained a strong commitment to community action and charitable giving. We believe in creating not only beautiful landscapes, but beautiful communities, and so we strive to offer our services and support to valuable community efforts along Colorado's Front Range.
We share some of our community activities on these pages in the hopes they will encourage and inspire participation, and spread the word about these fantastic opportunities for giving.
2013 DPS 8th Grade Career Fair
For the 3rd year in a row, Designscapes Colorado is proud to have taken part in the DPS 8th Grade Career Fair on Wednesday October 18th. This annual event brings together local companies, high schools, and colleges with the goal of exposing 8th graders to potential careers and educational opportunities. Every 8th grader in the Denver Public School system attends this event, which is a great opportunity for young people to expand on their interests or discover new potential career paths. These youngsters are the future business and societal leaders, which is why at Designscapes Colorado, we feel it is important to get students excited about the green industry at an early age.
Colorado State University 213 PLANET Student Career Days
Designscapes Colorado would like to congratulate the CSU team for a strong finish in the 2013 PLANET Student Career Days! Colorado State University finished 6th among 62 universities and colleges. Many students finished in the top ten of their individual events, and several students were awarded industry scholarships at the event. As an industry leader, Designscapes Colorado is proud to support Colorado State University and the Department of Horticulture and Landscape Architecture. Way to go Rams!
Family Promise of Greater Denver
Designscapes Colorado is extremely proud to support Family Promise of Greater Denver. This year Designscapes Colorado donated a landscape plan for the 2012 Warming Ways for Winter auction. We are excited to hear that the fundraiser was a success and that Family Promise of Greater Denver exceeded their fundraising goals!
Cherry Creek Wrestling
Designscapes Colorado is proud to support Cherry Creek High School Wrestling! The CCHS Takedown club will produce a program for home matches from December 6th through February 7th displaying our ad. Good luck to all of the student athletes, and Go Bruins!
Denver Green School Tree Donation
Designscapes Colorado is partnering with Alameda Nursery to donate, transport, and plant a tree at the DPS Denver Green School. This donation is in conjunction with the Colorado Sate Green Schools Summit on October 26th, and will help the Denver Green School celebrate its national Green Ribbon School award.
http://www.cde.state.co.us/communications/Releases/20120424greenribbonwinners.html
http://www.usgbccolorado.org/green-buildings/greenschoolsummit.html
Designscapes Colorado is proud to continue our working relationship with Denver Public Schools, and we would like to congratulate the Denver Green School for their national recognition!
Denver Public Schools 8th Grade Career Fair
Designscapes Colorado is once again proud to have been a participant in this years DPS 8th Grade Career Fair! Held Wednesday October 11th at the Denver Coliseum, the career fair was a chance for all Denver Public School 8th Graders to explore potential career paths. At Designscapes Colorado, we realize what an exciting and important opportunity this is to encourage young people to follow their interests. Career paths in the landscape industry are quite diverse, so we really wanted to expose these students to this wide variety. We talked to students who were interested in the outdoors, art, science, and technology. All of these disciplines are utilized in the landscape industry.
Here is a short clip about the career fair from the Denver Post: http://photos.denverpost.com/2012/10/10/denver-public-schools-annual-8th-grade-career-fair/#more-47781
Denver Public Schools website: http://www.dpsk12.org/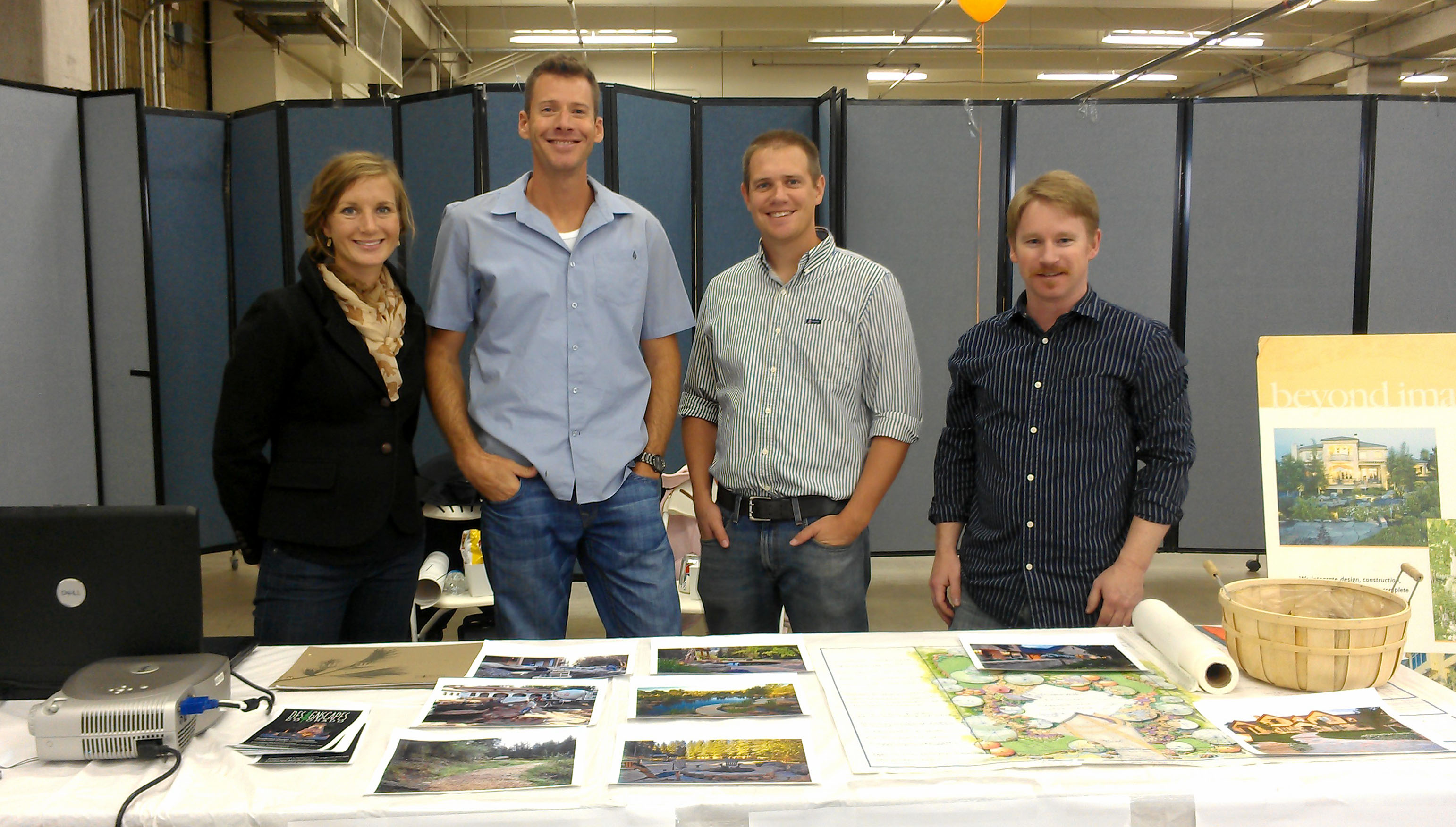 We really enjoyed talking with the students and getting them excited about the landscape industry! We would like to thank both the students and volunteers for making this such a wonderful event.
Casting For Recovery
Designscapes Colorado is extremely proud to support Casting For Recovery. This unique charity provides an opportunity for women whose lives have been profoundly affected by breast cancer to gather in a natural setting and learn the sport of fly fishing. Their weekend retreats incorporate counseling, educational services, and the trained facilitators that staff each retreat, including a psycho-social therapist, a health care professional (e.g. physical therapist, nurse), as well as fly-fishing instructors and river helpers. We helped raise $25,000 at this years Fish Tales Auction event!
http://castingforrecovery.org/wordpress/home/
Learning Landscapes - Work that affects the Community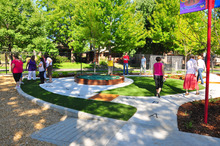 Of Designscapes Colorado's numerous premier projects during the past decade, a program for Denver Public Schools is among the best. The Learning Landscapes
Alliance — a joint effort between the University of Colorado and the Denver Public Schools — extends the classroom to the playground at both the elementary and college level. The program allows college students to develop master plans for local elementary schools that are taken on by area architects and general contractors. Designscapes Colorado has installed more than 55 of the playgrounds in the past four years, gaining national recognition in the process.

"Learning Landscapes playgrounds are very different from regular playgrounds," says Christopher Hoy, Landscape Architect "These playgrounds include math and science elements to help the students develop math and science skills while at play." The playgrounds also integrate vibrant colors, elevation changes and artwork painted on the asphalt.

"The design elements generally tap into the history of the schools, the local geography, history and tribal roots," says Tom Brownfield, construction manager for Designscapes Colorado. "The individual projects often start with UC-Denver graduate students working with the elementary school students by exploring the history of the elementary school's location."

The unusual installations are a unique and exciting challenge for a company known for its creativity and dedication. "Generally, the Learning Landscapes playgrounds will integrate three surfaces including a mulch surface, an SBR rubber (a poured-inplace material), and AstroTurf or another synthetic turf," says Tom Brownfield, division manager for Designscapes Colorado.

"The community is also involved in the project. We lead volunteer days where the community can come in and lay sod and plant trees," Brownfield continues. "We enjoy working closely with the volunteers and furthering a sense of community around the schools." Designscapes Colorado also watches out for safety on the projects as the playgrounds are completed on a phased construction schedule, often while school is in session.

The playgrounds have had a positive impact across the board, and recent evidence suggests the interactive playground affects how kids learn and improves the students' play environment.

"We're on the leading edge in the development of these playgrounds and we've been proud of the national attention they've received," says Brownfield. The projects allow Designscapes Colorado to do what it does best — serve clients from start to finish, as needed.