Zone Rules
Ozone, time zone, plant zone.  Do you know which zone you're in?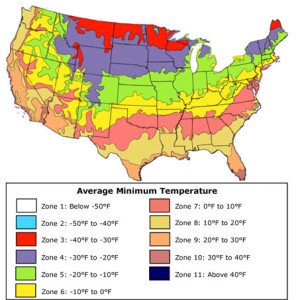 We'll soon be buying seeds, flowers, perennials and more, so it's important to know the plant zone where you live – especially if you are ordering seeds and plants from national company catalogs or online.  You may be tempted to try azaleas and then confused by the note that says "Zone 9."
This zone reference is to the Plant Hardiness Zones established by the USDA which offers 10 basic classifications (Zones 1 to 10) to help growers, including home gardeners, know what they can plant successfully.  The zones are based on average annual minimum temperatures.
Colorado's Front Range is predominantly Zone 4-5.  At zone 5, average minimum temps are -20 to -10 F.  The mountains are predominantly Zone 4 at -30 to -20 F.  In contrast, Colorado's fruit growing area near Grand Junction crosses the warmer Zones 6-7.
Getting back to azaleas, don't even consider those Zone 9-ers for Colorado.  However, the USDA does say that you can sometimes take a plant one zone warmer than recommended.  The caution here is that the plant needs to be in a microclimate where it's protected-such as along a warm, south-facing wall or in a courtyard.
Also note that a Zone 5 area can take a short-term temperature dive into Zone 4 that can kill some Zone 5 plants.  This can happen in extremely harsh winters similar to the sudden November 2014 freeze that devastated many well-established plants along the Front Range.
When shopping for plants, beware the tag "perennial."  Often plants sold in large quantities at big box stores are labeled as perennials because they come from warmer zones where they are grown as perennials.  In Colorado, these plants, such as some mums and verbena, will really be annuals.  If you're not sure about a specific plant, check with a pro.
As the USDA also points out, the zones are guidelines, not guarantees.  Many factors such as soil condition, drainage and exposure to sun and wind will also impact plant health.
Consider fruit trees.  Apricot and peach varieties can grow successfully in Zone 5, but they may only produce fruit three or four years out of ten.  A late spring frost that freezes the flower buds will mean little or no flowering and no fruit.
Also take advantage of the Plant Select offerings developed specifically for Colorado's harsh growing conditions, including low water requirements for most.  Not only are these plants well-suited to Colorado, but the Plant Select information always includes the optimal plant zone for each plant.
Best advice?  Stay in your zone when ordering seeds and plants.  And be aware of the variations in conditions that can impact any plant's success.  Be cautious, but also take an occasional risk.  Enjoy all the choices that come with spring!
This entry was posted in
Trees
,
Residential
,
Pots & Planters
,
Maintenance
,
Lawn & Garden Care
,
Holiday Lighting & Decor
,
Green Landscape
,
Events
,
Company
,
Commercial
,
Annuals & Perennials