Winter Safety is a Top Priority at Designscapes Colorado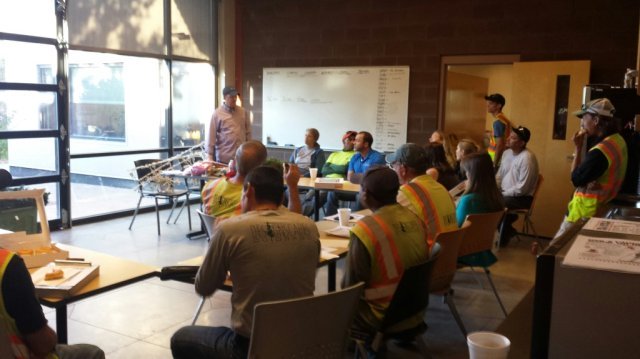 Safety is always a top priority for us here at Designscapes Colorado. Last week our Lighting Department head, Jeremy Sanders put on a 2 part safety demonstration for the 2014 lighting office workers and crews. Jeremy put together a detailed and helpful presentation that focused on topics such as ladder safety, how to decide whether or not to go on a roof line, and electrical wire safety.
During the Winter and late Fall months crews face tough working conditions. They have to deal with conditions such as snow, rain, wind, and cold weather. Because of the training we offer at Designscapes Colorado our crews are prepared and ready to safely face any weather situation. We are confident that our crews are doing the best possible work while maintaining a high safety standard.
To further our crews safety knowledge Designscapes Colorado will soon be holding a hands on safety seminar for the 2014 Lighting crews. This seminar will include hands on safety installation training. The product of this seminar will a beautifully lit office at Designscapes Colorado and the reassurance of knowing that our crews are prepared and ready for winter installations.
For any question or inquiries regarding holiday lighting, contact Designscapes Colorado at, info@designscapes.org.