What About Those Leaves?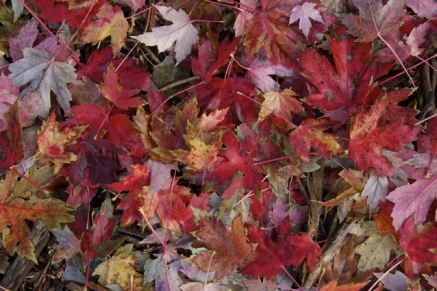 Did you know that leaves really don't "turn" color per se?   The colors we see in fall leaves have actually been there all season long!   
In the fall when the plants stop photosynthesizing, the leaves lose their green chlorophyll.  When fall leaves appear to be turning colors, they are really reflecting the remaining pigments – the reds, oranges and yellows – we associate with autumn.  Those colors were there all along, but we couldn't see them.
Another fact:  Leaves in the high country last longer than they do along the Front Range.  The cooler mountain temps support longer color than you will see at lower, more temperate elevations.  And when there is fall moisture at any elevation, it too, will prolong seasonal color.
Unfortunately, sooner or later those brilliantly-colored leaves will fade and fall.  If they are in your yard, it's clean-up time.  There are a few things to know about leaf clean-up.
The primary principle when dealing with fall leaf cleanup is to avoid sending leaves to the landfill if at all possible.  Recycling leaves locally or adding them to your own compost bin is the most sustainable step.  Also, don't rake and stack leaves along the curb where they can fall into the gutter, as leaves will clog storm drains.
Know your leaves  
Some leaves will compost more quickly than others and are better in the compost pile.
And others may be toxic, so you should avoid putting them into your compost pile as composting does not necessarily remove toxicity. Poison ivy, leaves from apple trees which can be toxic to pets, and debris from other toxic plants should not go into compost.  Leaves from garden debris such as tomatoes and other edibles that are diseased should also be kept out of compost.
Size matters
Small leaves such as honey locust will decompose more quickly than larger leaves.  If you use leaves to mulch around plants, use smaller leaves.
Large leaves on the other hand, such as cottonwood and catalpa, tend to matt down and with moisture will get very wet and soggy.  If left on the ground, their size and sogginess will impede oxygen getting into the soil.
Leaves can stain
Some leaves, such as oak, which have high tannin content can stain pavement and other surfaces.  If you have these trees in your yard, make them high priority on your clean-up list.
If you compost
Don't compost leaves exclusively, but add them to an existing compost pile.
Per the CSU extension, add nitrogen when you add leaves to the compost pile.  You can use a fertilizer product as long as it does not contain weed killer or use fresh organic green matter.
For more information about composting leaves, refer to the CSU Extension Fact Sheet:  Composting: fall leaves.
For help with fall clean-up and other fall landscaae projects, Find a Pro from among ALCC's members in six chapters statewide.