Tip of the Week! What Do Your Plants Need Now?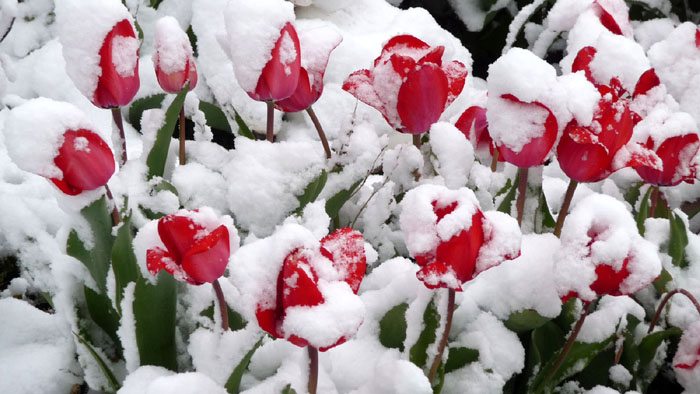 Here's another Colorado conundrum: the snow pack is at 142% of average and reservoirs are at 106% of normal–but at least 52% of our state is experiencing some level of drought. Temps in February have been well above normal statewide–as much as 16 degrees above normal in some areas.
What does this mean? We'll have water to keep landscapes healthy during the upcoming the growing season, but right now, along Colorado's Front Range in particular, our plants need a good drink of water plus a little more care.
Warm temps in February along with recent winds have dried out the soil. When you consider that we need about one foot of snow to equal an inch of rain, a couple inches of snow won't do much for the thirsty lawn and other plants. A couple inches won't provide the deep root watering trees and large shrubs need to keep their roots healthy. Here's what you can do right away to give plants the water they need.
#1 – Be ready to water your lawn
Within one week, Colorado temps along the Front Range will be 30+ degrees warmer and days will again be sunny and spring-like. Check lawns for dryness, especially areas with southern exposure and slopes as they dry out quickly. Not only will lawns be thirsty, but they are often invaded by turf mites during the winter when conditions are warm and dry. Solve both issues by dragging out the hose and watering the lawn.
#2 – Deep root water trees and shrubs
We entered the winter on the heels of a hot, dry fall. If plants have not been watered during the winter, they probably need thorough deep root watering. If you don't have the time to push a watering device at many intervals around the drip line of all your trees and shrubs, consider hiring a service to do the work for you.
Our trees represent the most expensive investment in our landscape and they only get more valuable over time as they mature. It's easy and cheap to replace a few square feet of dead lawn – but the tree with a trunk that's 18 inches across that shades much of your back yard patio is irreplaceable. Protect your tree and your property value by keeping it healthy and never too thirsty.
#3 – Water, compost and mulch around emerging bulbs
Apply a new layer of organic compost and mulch around emerging bulb plants before you water. This does two beneficial things. First, the material will help hold top soil in place during periods of high winds. Second, compost contributes to soil health and along with the mulch, deters evaporation and run-off to hold more moisture in the soil and root zone of plants.
Don't limit this TLC to bulbs. If the mulch is sparse around perennials, they will benefit from the same treatment.
When we consider that every $1 invested in our landscapes yields a $1.35 return, we can't afford to threaten their health, beauty and curb appeal by ignoring their simple needs for water and a little TLC.
Need help keeping your plants healthy and ready for the growing season? Contact us at Info@designscapes.org for more information!