3 ways to bring home texture, color and movement to your yard during the winter
Even in the cold, snow and dreariness of January, there's actually a lot of seasonal color and interest to capture the eye outside. It may not be in your yard – but it could be!
Take time to look around when you're outside walking the dog or driving. Pay attention to what draws your eye in neighbors' or a parks landscape. The colors of winter are subtle – but there are other aspects to enjoy that you won't see in July when the petunias are in your face.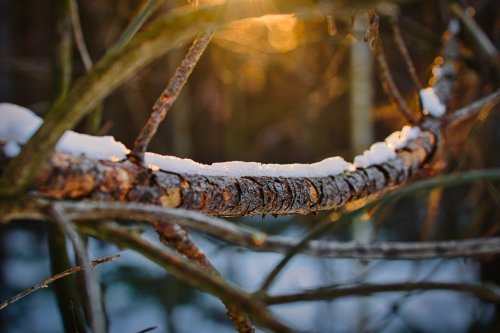 Winter gives unusual textures against the backdrop of snow. It also offers movement and shape. Even if you don't know the plants you're looking at, take pics with your phone of what you like best. You can ID the plants later with a pro – and make them your wish list for what you'll plant later this year.


3 ways to bring home texture, color and movement
1.) Which colors catch your eye? There's the standard green of evergreen pine and spruce trees and many low-growing juniper. Other shades of green show up in broadleaf evergreens like Euonymus and ground covers such as Tanacetum. You will need to look hard for bright colors, but they will show up in red berries of hawthorn trees or bare stems of yellow and red dogwood against the snow. Photograph what you like that's not in your yard now.
2.) Look for unusual shapes and textures. Details like the bark on trees are overlooked during the growing season. Notice the exfoliating bark of river birch. Shrubs like St. John's wort offer color and texture when dried leaves and seeds cling to colorful stems. Even small dried pods of Echinacea plants add texture in the winter garden and food for wildlife foragers.
Without their leaves, some trees like the Kentucky coffeetree transform into a craggy silhouette. They are Mother Nature's sculpture seen only in winter. Snap a pic of what appeals to you.
3.) Create movement. In the gusty winds of winter, tall ornamental grasses offer interest through movement – especially when grouped in large clumps. Pampas, maiden, feather reed and native bluestem grasses are good choices to add motion to the landscape. Shoot a video on a breezy day so you can add similar sway in your yard.
The winter-scape will never be as eye-popping as a sea of pink petunias, but it's not supposed to be. Winter is nature's season of rest and rejuvenation and its beauty echoes all that's quiet and subtle.
Look around to see what will make your winter yard better, then, lets tackle this spring planting project together.