Tip of the Week! Be Inspired by Small Spaces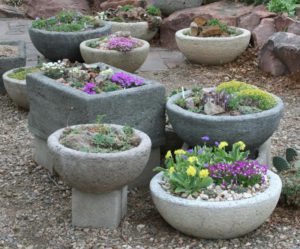 Rock and miniature gardening has become extremely popular and there are new, fresh ideas worth trying – even if your growing area is a small one.
For our high altitude Colorado gardens, a modern-style garden arising from angular, vertical lines comes from the Czech Republic. This new garden style, called crevice gardening, is a form of rock gardening that is equally adaptable to large or small spaces.
Instead of placing rocks in mounds of soil, flat stones like pieces of flagstone are pushed down into the soil vertically. Crevice garden's unique character comes from planting in the narrow channels between the stones.
These slender channels create a unique microclimate, allowing gardeners to succeed with higher alpine plants that might normally be too difficult to grow.
If you like rock gardening, you might enjoy the novelty of turning stones on edge and filling tiny spaces with favorite plants.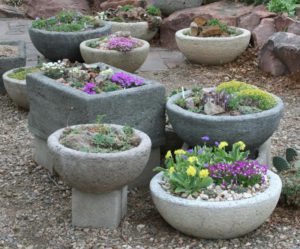 Another trend also good for small spaces is trough gardens. Denver Botanic Gardens has showcased and sold these gardens and for serious DIY-ers, even has the recipe and instructions for how to build your own custom hypertufa troughs.
Because these troughs are cold-hardy and lightweight, they offer a practical and unique form of container gardening. The look can also be duplicated with similar containers. Fill them with a well-drained soil mix, rocks for decoration, small plants of varying shapes, colors and textures and top with a small gravel mulch.
To find plants suitable for both gardens, explore the online design gallery provided by Plant Select®. You will see stunning photos of gardens from around the region, all with detailed information on combining colors, best conditions, seasonal displays, maintenance tips and plant pairings. Also note Plant Select® Petites because they adapt well to the small spaces of these gardens.
For local and live inspiration, tour Plant Select® gardens near you – or include more distant ones in your summer travels. The abundance of public gardens statewide showcases designs and practical ideas for home landscapes.
The A to Z garden location list begins with Alamosa and ends with Vail. Geographically, gardens stretch from Grand Junction in the west to La Junta in the east with many more in between. If you travel throughout the state this summer, it would be worth adding these gardens to your list of must-see places.
This entry was posted in
Gardens
,
Residential
,
Pots & Planters
,
Maintenance
,
Lawn & Garden Care
,
Design
,
Green Landscape
,
Trades
,
Playgrounds
,
Commercial
,
Annuals & Perennials