Protecting Your Trees from Winter Damage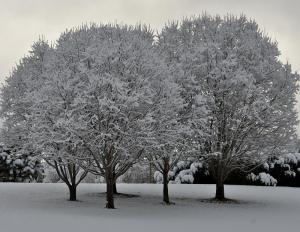 The first big snowfall of the season is always a wake-up call to prepare the landscape for the winter ahead. Winterize the sprinkler system, mulch around perennials – and protect trees from snow damage.

Fortunately, in spite of our late fall, most shade trees have already dropped their leaves. That left less surface area for snow to cling to and create the heavy snow loads that can crack and break branches.

On the other hand, there was a lot of growth this season and that also added surface area. When the snow flies – particularly the wetter snows common in fall and spring – that growth can be too much of a good thing.

How long has it been since your trees were thinned?
Young trees are typically pruned well at the nursery, so they usually do not require pruning and thinning for a few years after planting.
After about five years, they may need corrective pruning. That should be continued on an ongoing basis as trees mature.
Soft-wooded trees such as poplar, cottonwood and pear trees are most susceptible to breakage and should be monitored and thinned regularly.

Once most leaves have fallen, it is easier to spot problem areas that need to be addressed and that makes fall an excellent time to prune most trees. An arborist will look for branches that have horizontal cracks and branches that are broken, but still hanging by a thread.

Since falling branches are a hazard to property and people below, weak and broken branches should always be top priority. In addition, if these branches rip off the tree, that harms the tree and will usually require more remedial work than addressing the broken branches before they fall. Thinning will also remove branches that cross and rub against one another in strong winds as well as other weak points within the tree.

Proper thinning opens up trees so they are much less susceptible to wind and snow damage. It is a preventive measure that helps to keep trees healthy and protects your landscape investment. Like most preventive maintenance, thinning should also save you money over the long term.

The first big snowfall of the season is always a wake-up call to prepare the landscape for the winter ahead.

Designscapes Colorado is the leader in landscape design and maintenance. We strive to provide only the highest quality landscaping across all of Colorado. We understand your need for a beautiful looking landscape. Beauty and perfection is ingrained in our roots and is a part of our core of what we believe in. For your next landscaping project, give us a call or send us an email at: info@designscapes.org. We can make your imagination become a reality!