More Than A Porch Light
We're about five weeks away from when we re-set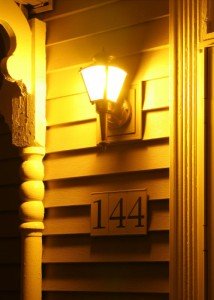 the clocks and spring forward into longer days.  For many, the extended daylight hours brighten our spirits and get us in the mood for spring. With outdoor living season just around the corner, many of us will find we want more than the porch light to enhance our outdoor experience.
Even before the clock changes, additional lighting can help guests find their way to the door and make us feel more secure during long winter nights.  Winter or summer, lighting in strategic areas improves our quality of life whenever we're outside.
The gap we are in now between growing seasons can be an efficient time frame to install outdoor lighting because it can be installed any time the ground is not frozen.  And installing during the down-time of winter means you can begin the outdoor living season with adequate lighting right from the start.
LED technology for landscape lighting offers several benefits:
Low-voltage LED lighting uses up to 80% less energy than traditional lighting.
LED bulbs last longer – meaning less ongoing maintenance and more convenience.
They will brighten the evening around your home, but won't add light pollution to the night sky.
Installation is not a long, complicated process.
Other tangible benefits of having outdoor lighting around a home are increased security and curb appeal.  According to law enforcement pros, outdoor lighting helps deter break-ins. Given a choice between a dark property and one that is well lighted, thieves will choose the neighbor with less light surrounding the home.
And if your home is going on the market, realtors say that lighting is now on the top 10 list for curb appeal when selling. In Colorado, we value our time spent outdoors and lengthen that timeframe long past sunset.  As a result, lighting has become a valued feature within the landscape.
If you are renovating or installing a new landscape this season, it will be more efficient and cost-effective to install the wiring at the same time as installing wiring for the sprinkler system.
Digging only one trench to hold both sets of wires cuts costs.  Even if you need to phase in lighting at another time, having the wire in place is a smart move.  Later on, you won't have to dig again to install the wires.
We're five weeks from longer days and about 15 weeks away from the early date for first planting.  Even though it's too soon to plant petunias, we can still start gearing up for spring!