Make Room for Our State Flower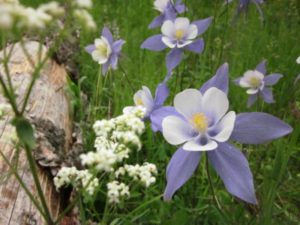 As the hiking season gets underway, we'll stroll past Columbine growing entirely on their own in the high country without support from any humans. It's a miracle of nature that a spec of a seed matures to this stately and elegant flower that survives in the wild without added soil amendments, rototilling or drip irrigation.
Mother Nature knows what she's doing and in the case of the Rocky Mountain Columbine, it's not hard to emulate her. Being a Colorado Native, Rocky Mountain Columbine is well-suited to Colorado gardens whether in the high country or along the Front Range. Other varieties also grow well here in a variety of elevations and conditions.
Here are columbine basics:
Columbine are easy-to-grow perennials.
Columbine grow to a mature height of 18″ and a width of 15″.
They bloom from late spring to early summer.
They attract hummingbirds and are somewhat resistant to deer and rabbits.
Planting guidelines:
Though seed is available, you will have faster/easier results with a nursery plant already blooming.  Growing from seed requires some know-how and patience to wait a few years until the plant reaches the maturity to bloom.
Columbine can be grown as a companion plant with other perennials – but not with X-rated plants that require minimal water.  Columbine needs regular summer watering, so place it among other perennials with similar moisture needs and with good drainage.
Ideal light is in an area that offers morning sun and afternoon shade. A half day of sunlight promotes blooming.
Longevity & pests
Columbine plants last for about 4 to 5 years, but because they are self-seeding you might see new plants emerging in the garden as the original ones decline.
The most common pest problems are aphids and powdery mildew.  Stunted foliage and misshapen flowers are signs of aphids.  Dealing with both aphids and powdery mildew simply involves applying insecticidal soaps which are available at local garden centers.
Other varieties to consider
For higher elevations and rock gardens, Colorado State University Extension recommends these two varieties:
A. saximontana – has blue and white flowers with hooked spurs
A. laramiensis – a white-flowered dwarf from Wyoming.
For Front Range gardens in Zones 4 and 5, they recommend the golden Columbine, A. chrysantha. As a native of southern Colorado and New Mexico, it is a heat tolerant variety and re-blooms well if deadheaded.
More on Colorado's State Flower
In 1899 when school children selected the Rocky Mountain Columbine to become the official flower of the State of Colorado, they saw how the flower's attributes are reflective of our state.  The flower's blue symbolizes the sky, the white symbolizes snow and the gold reflects Colorado's gold mining history.
This entry was posted in
Structures
,
Outdoor Living Spaces
,
Gardens
,
Residential
,
Pots & Planters
,
Maintenance
,
Lawn & Garden Care
,
Design
,
Green Landscape
,
Parks
,
Commercial
,
Annuals & Perennials