June – Great Outdoors Month 2016
The State and National Park of our country represent our natural heritage. Great Outdoors Month takes place from May to July and is an event filled with fun and exciting outdoor activities for the entire family. Last year more than one million people participated at more than 16,000 sites. This program started in 1998 and has grown tremendously throughout the years. This June, celebrate the natural wonder and outdoor spirit of American by getting outside during the Great Outdoors Month.
In addition to these great events, governors across the country are helping to introduce their citizens to healthy fun in their Great Outdoors by hosting overnight stays by youth on the lawns of their residences, or in nearby state parks with Capital Campouts.  In 2016, the scope of Capital Campouts is expanding to include events in non-state capitals.  These new events are called "Governor's Campouts." For more information on Capital and Governor's Campouts.

National Trails Day (June 4) – The American Hiking Society's National Trails Day® is the nation's largest celebration of trails.  More than 2,300 trail-related events in 2015 included hiking, biking and horseback rides, paddling trips, birdwatching, geocaching, gear demonstrations, stewardship projects and more in all 50 states, Washington, D.C. and Puerto Rico, as well as Canada.  For more information, visit www.americanhiking.org/national-trails-day/.

National Fishing & Boating Week (June 4-12) – TakeMeFishing's National Fishing & Boating Week celebrates the importance of recreational boating and fishing in enhancing people's quality of life and preserving our country's natural beauty.  Most states offer free fishing days during National Fishing and Boating Week, which are perfect opportunities for beginners to try out fishing for the first time.  For more information, visit www.takemefishing.org/nfbw/.
National Get Outdoors Day (June 11) – National Get Outdoors Day will return in

2016 with hundreds of events across the nation.  GO Day is coordinated by the American Recreation Coalition and U.S. Forest Service and links hundreds of local, state and federal agencies, diverse non-profit organizations in the health and youth-service fields, the recreation industry and media interests.  2015 was the largest GO Day yet, with over 200 sites in 39 states and the District of Columbia.  More information, including how to host your own event is available at www.nationalgetoutdoorsday.org.

National Marina Day (June 11) – Welcome to the Water on National Marina Day is a nationwide boating event dedicated to grow boating participation across North America.  Marinas across the United States are asked to open their doors to the public to show off the boating lifestyle and encourage non-boaters to get out on the water.  The type of event that each marina holds is unique, but has the purpose of celebrating boating as a fun-filled, affordable activity than anyone can enjoy.  For more information, visit www.nationalmarinaday.org/
Great Outdoors Month National Day of Service (June 17) The Corps Network's

Great Outdoors Month

National Day of Service is the newest of the Month's signature programs.  The Corps Network organized the 2nd annual Great Outdoors Month

Day of Service in 2015 on the National Mall in Washington, D.C.  Innovative service projects across the nation were highlighted by key speakers, and then a crew of more than 100 volunteers and conservation corps members from across the country undertook projects Franklin D. Roosevelt Memorial, Daingerfield Island, Rock Creek Park, and Theodore Roosevelt Island.

Great American Campout (June 25) – The Great American Campout is part of the National Wildlife Federation's efforts to inspire Americans to protect wildlife, including a three-year campaign to get 10 million kids to spend more time outdoors.  In 2015 more than 120,000 campers pledged to camp out at locations in all 50 states.  For more information, visit www.nwf.org/campout.
Kids to Parks

Day (May 21) – Children, families, teachers, cities, towns, and parks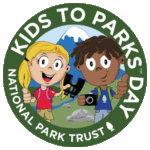 are gearing up for this year's Kids to Parks Day, a nation-wide day of outdoor play organized by National Park Trust (NPT) in cooperation with a host of local and national collaborators.  NPT is encouraging children across the country to explore their neighborhood parks and discover science, history, nature and adventure right around the corner or just across town.  For more information,visit parktrust.org/youthprograms/national-kids-to-parks-day

Get Into Your Sanctuary Days (June 25-26) As a destination for ocean recreation, few places on the planet can compete with the diversity of the National Marine Sanctuary System, which protects America's most iconic natural and cultural marine resources.  Fortunately, the vast majority of all national marine sanctuary waters are open to recreational fishing, diving, surfing, swimming, kayaking and much more!  NOAA's Office of National Marine Sanctuaries is celebrating how sanctuaries succeed in promoting conservation while allowing compatible recreational activities by hosting a system-wide series of National "Get into Your Sanctuary" Day events.  For more information, visit sanctuaries.noaa.gov/visit/giys.
Go to Great Outdoors Month 2016 for more information.
This entry was posted in
Trees
,
Residential
,
Pots & Planters
,
Maintenance
,
Lawn & Garden Care
,
Holiday
,
Green Landscape
,
Events
,
Designscapes News
,
Company
,
Trades
,
Playgrounds
,
Parks
,
Commercial
,
Annuals & Perennials