How Green Do You Deck the Halls?
It's traditional to deck the halls during the holidays with greenery dressed up with bows and lights.

There are also green paybacks to be had in your wallet and the environment based on how "green" you want to go. If you have pets, be aware that there are safety issues with some live green plants as well.

Artificial or natural tree?

Artificial trees are less of a fire hazard and don't drop needles to create a mess on the floor like the natural ones do. Being pre-lit so all you have to do is plug them in is a time saver as there are no lights to string around the tree. You don't have to worry about getting this tree outside or delivered for recycling, either. For many, those factors are the tipping point for the artificial tree. And that's a valid choice for many.

On the other hand, if you love the smell of a fresh evergreen and keep it watered regularly to reduce fire hazard and slow the needle drop, a fresh tree might be the one for you. Even though it seems wasteful to remove a live tree from its natural habitat, you're actually acting sustainably.

An artificial tree must be used 20 years to have a lower carbon footprint than a natural tree. One acre of Christmas trees growing on a tree farm creates enough oxygen to support 18 people. So if you like the fragrance, control the mess and keep your tree fire safe, go for the natural one.

Other ways to go green:

Reduce energy with LED lighting. Whatever your tree, light it up with LED lights. They are safe because they generate no heat to ignite the tree. They require less power and many less outlets. Many strands can be plugged end-to-end and into one single outlet. They are energy efficient.
Reuse what you have. Use the lowest branches cut off a natural tree to a vase and bring the evergreen fragrance to another room. Gather pine cones and branches with berries from the yard and make them part of your fresh holiday décor. Look for branches such as red twig dogwood to add interest in outdoor containers and indoor arrangements.
Re-purpose materials such as turning pine cones into fire starters. Dip, dry and re-dip pine cones 4-5 times in melted wax to create fire starters for a fireplace or outdoor fire pit.

Pay attention to pets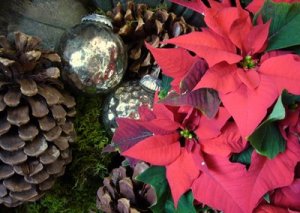 Decking the halls with live plants is a sustainable decorating choice, but know the limits when it comes to pets. If pets chew on plants, avoid these toxic plants in your holiday décor.
Amaryllis plants are very toxic and the bulb more so.
American holly has potentially toxic compounds that can cause gastrointestinal irritation.
Mistletoe berries and leaves can cause mild gastritis – but the most serious threat to pets is the plastic berries often included in the package. Many holiday vet visits are due to pets ingesting these berries.
Kalanchoe, a flowering succulent, is popular at the holidays because of its showy blooms. It, too, can cause gastrointestinal problems for pets.
What about poinsettias?
Contrary to urban myth, they are a safe holiday standby. The bracts of poinsettia leaves are not seriously toxic and a much safer plant choice if you have pets. Studies at the Mayo Clinic and Colorado State University's Fact sheets confirm this.

Designscapes Colorado is the leader in landscape design and maintenance. We strive to provide only the highest quality landscaping across all of Colorado. We understand your need for a beautiful looking landscape. Beauty and perfection is ingrained in our roots and is a part of our core of what we believe in. For your next landscaping project, give us a call or send us an email at: info@designscapes.org. We can make your imagination become a reality!