Have You Looked At Your Yard Lately?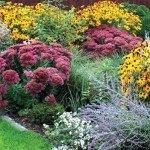 Today, we require more of our landscapes than ever before.  Back in the day, they were more like a window dressing around a building.
They had a token tree or two, a few evergreen shrubs, maybe some perennials for color out front and a small flower bed for marigolds.  But today's landscape is not your grandmother's yard.
Now we expect more than just one pop of color, more shade to cut the AC bill in the summer and a livable area with outdoor ambiance where we cook, eat and entertain.  We want more curb appeal and increased property value. Low maintenance and lower water costs are also on the list.
And beyond all those desires, we also ask our landscapes to clean the air, deal with the heat islands in cities, purify water as it moves through the soil, mitigate storm water, grow healthy veggies, attract pollinators and repel the deer that want to chew up our petunias.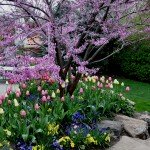 That's a tall order for a yard that once just sat still, looked kind of nice and had to be mowed once a week.
So what's on your wish list for this year's gardening season?  Beginning this weekend, the productive hours of daylight will seem longer bringing more opportunity to survey the yard and explore new possibilities.
Here are a few ideas to get you thinking:
ID the worst eyesore in the yard and put it at the top of the to-do list.
Decide what you want to see when you're sitting on the patio.  Is it more color, another tree or just a bigger, nicer patio?
Could you change just one thing that would require less maintenance?  For example, is there a shrub you hate to prune because it has thorns?  How about replacing it with a colorful and lower maintenance plant?
Is it too dark in the areas where you would like to expand outdoor living?  Would it be more usable if there was outdoor lighting?
Can you find a place for the fire feature that is now on your outdoor living wish list?
Also, walk across the street and look at your house with the perspective the neighbors have.  This is how they see your yard every day. Rate the curb appeal.  If it reminds you of grandma's place, think about a facelift.
As with other projects, make the list, prioritize it and put the tasks to get there on the calendar.  If you need a pro to give the help you need or take over maintenance you're no longer willing to do, make the phone call.
Before the growing season actually arrives is when we need to evaluate and make our plan.  With it in hand, there will be more purpose in trips to the garden center and the satisfaction of getting the yard of your dreams underway.
This entry was posted in
Trees
,
Outdoor Living Spaces
,
Gardens
,
Residential
,
Pots & Planters
,
Maintenance
,
Lawn & Garden Care
,
Holiday Lighting & Decor
,
Design
,
Green Landscape
,
Events
,
Commercial
,
Annuals & Perennials