Festive Pottery During the Holidays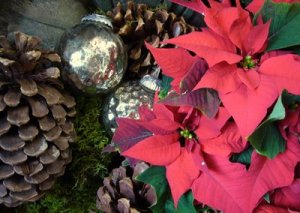 Outdoor plant containers don't have to be packed away until spring. Those planters that grew petunias and pansies a few months ago can be dressed up for the holidays – and beyond.
Containers on the porch add a bright spot amidst the cold, dormant landscape of winter. From the holiday season through early spring, they can be filled with plants and other natural materials to create an ongoing focal point of interest.

Here are tips for keeping porch containers working through the winter.

Less is more. During the winter, there is less competition in the outdoors to draw the eye, so use fewer containers for more impact – and less effort. If you normally have three pots flanking each side of your door, scale back to one or two.
Thriller, filler, spiller still applies. Even though the materials may be different in winter, use the same formula used to combine plants in the growing season. Use a tall element like dogwood branches for thriller, rounded items like dried pods, cones or flowers for filler and a cascading component like evergreens for spiller.

Plan an easy transition from "holiday" to "winter" décor. Many elements like evergreens and pine cones used for holiday décor in December transition well into simple winter interest for the months ahead. By removing red bows and glass balls used during the holidays, what remains in the container can keep the seasonal interest going until it's time to plant pansies.

Take a sustainable look at your landscape.
Many of the components for winter containers might already be in your yard. Create your own scavenger hunt to find:
Berries such as red cotoneaster, blue/green juniper and orange pyracantha
Cones from evergreen trees and shrubs
Seed pods and dried plants like yarrow, hydrangea or Echinacea
Deciduous branches in interesting colors or shapes
Evergreen branches from trees and shrubs or the lowest branches that got pruned from the Christmas tree when you put it in the stand
At this time of year, we have to look a little harder to find what Mother Nature has provided – but she does offer much we can re-purpose into showy containers.

If you need a few more items for interest, the local garden center can supply the rest. Enjoy creating your own look that says "winter" and appreciate the scaled-back ambiance that the winter-scape provides.

Outdoor plant containers don't have to be packed away until spring.

Designscapes Colorado is the leader in landscape design and maintenance. We strive to provide only the highest quality landscaping across all of Colorado. We understand your need for a beautiful looking landscape. Beauty and perfection is ingrained in our roots and is a part of our core of what we believe in. For your next festive pottery project, give us a call or send us an email at: info@designscapes.org. We can make your imagination become a reality!