Extend your Outdoor Living Season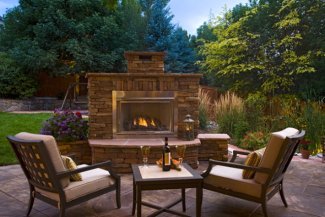 Nice weather this week has been a reminder that fall can be glorious in Colorado.  There are many great days ahead to enjoy outdoor living even when there's a chill in the air.
The key to extending outdoor enjoyment beyond the balmy days of summer is as simple as using the elements of fire and light.
Start a fire!
Staying warm on a chilling fall afternoon is as easy as striking a match in a wood-burning fire pit.  A cozy fire brings people together, prolongs a good conversation and adds ambiance to a glass of wine or a bottle of beer.  For kids and teens, it's one more campfire and round of s'mores to enjoy.
Plus, the old-fashioned fire pit is a good way to test drive whether you want a more permanent fixture with less maintenance and no smoke.  Out-of-the-box propane models can be embellished to look like custom work that matches other outdoor features in your yard.  Or you can create a permanent feature encircled in stone or even a standing fireplace complete with a hearth and chimney.  However you make it happen, taking the chill off the air makes the outdoors livable well into the fall.
Turn on the lights
The sun is setting earlier and it will soon be time to turn the clocks back.  Since no one likes moving around or sitting in the dark, the darkness alone chases us indoors.  On the other hand, lighting up pathways and outdoor living areas keeps the outdoors inviting.
There are several benefits to outdoor lighting, especially LED lighting:
It is relatively easy to install any time of year
It uses minimal power and
It is low maintenance because bulb replacements are few and far between.
Outdoor lighting also ups the safety factor around your home.
Adding warmth and light are both strategic outdoor projects to tackle in the off-season.  If you decide more fire and light are in order, these can be fast-track fall upgrades that won't interfere with your landscape during the growing season.
This weekend, get outside to kick through the leaves, light a fire and keep enjoying the outdoor season as long as you can.
Contact Designscapes Colorado for more information at info@designscapes.org.