Bright Ideas with Outdoor Lighting
You've trimmed and pruned all your plantings, aerated your lawn, installed all the new age landscape features known to man and now what??  You've worked diligently to cultivate and refine your magnificent landscape so there is no reason why it should be masked at night fall. 
One of the most important component for maintaining home safety,creating outdoor night life, or just adding to the value of your property is the addition of outdoor lighting.
Landscape lighting is powered through line voltage, solar and/or low voltage electrical. Let's explore these options to determine which is more suitable for your needs.
Line Voltage should be used when higher wattage is required. This will provide you the ability to utilize a larger variety of bulbs. This type of installation requires an licensed electrician to trench and run conduit 18" deep to power feed each fixture location. Solar Lighting is one of the most upcoming trends for outdoor lighting designs.  A solar lighting system is composed of an LED (light emitting diodes) lamp, solar panels, battery, a charge controller and in many cases a inverter. The lamp operates on electricity from the batteries charged through the use of solar photovoltaic panel. Though they can be left outside year round place them in the sunniest spot possible because they tend to last only four hours at a time. Though not yet the perfect solution for optimal night lighting its low cost attribute makes it ideal to create outdoor aesthetic brilliance. Low Voltage has an increased energy efficiency and are safer to self-install due to there being no danger of electric shock and trenching is not required. With this option you can use more fixtures because the bulbs have a lower (12-18 volts) wattage. Low Voltage fixtures are ideal for providing plenty of light while still maintaining low cost efficiency.
You will have to check with your local building code to verify what type of lighting is allowed for outdoor use in your area. 
Some spectacular lighting ideas that will bring curb appeal to your estate are Moon Lighting, Hardscape Lighting, Silhouette Lighting and Balanced Lighting.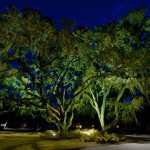 Moon Lighting  
Place large fixtures with full glare in high trees angled downwards to create the "moonlight affect". Height placement is generally 30-40 feet high to get that natural look and keeps the fixtures out of site.  This overlook will appear as moonlight shining through the branches illuminating the landscape and eliminating the need for pathway lighting.
Hardscape Lighting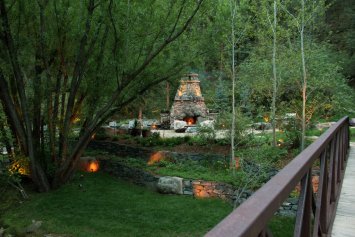 Hardscapes are elements of buildings grounds consisting of structures, patios, fireplaces, pergolas, and walkways just to name a few.  For your overall landscape scheme, hardscapes are just as important as the landscaping.  Adding lighting bring about a "Feng Shui" integrity to your night life.  This art form should be accented with unique lighting designs defining edging and areas that cause safety concerns. In your initial design create a focus point of what you would like to see in the evening hours. From that point, you will begin to see the overall integration of discrete features displayed under the lighting design.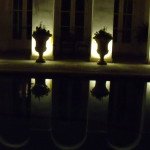 Silhouette Lighting  
Silhouette lighting is great for showcasing your home and property. It is perfect for accenting walls, sculpture, plants etc.  The general idea is that an object is silhouetted in black against a white background. Use halogen bulbs with a mirrored background to create a wide band of back lighting that will create the "silhouette effect."
Balanced Lighting
Balanced landscape can be defined as being either symmetric or asymmetric.  Symmetrical balance is two sides of the same image while asymmetrical balance is considered "active balance" in which the two sides are different in some way.  You will need to determine the central reference point from which to draw an axis.  This could be an entry door, a sculpture, tree in the back yard and other objects that can be deemed the center point of the balance. Asymmetrical balance generally works tremendously well for landscaping lighting.  Rather than having identical lighting on either side of the central axis this option has different objects of equal visual weight on either side of the line.
Creating a visual spotlight for all your hard work is quintessential.  Home safety, nightscaping, and added value to your property can all be accomplished with proper outdoor lighting.  Implementing alluring and elegant lighting designs can bring your house to life.
Contact the Designscapes Team at  info@designscapes.org to create a landscape design that will "light up your life."
This entry was posted in
Trees
,
Outdoor Living Spaces
,
Outdoor Fireplaces & Fire Pits
,
Gardens
,
Residential
,
Pots & Planters
,
Maintenance
,
Lawn & Garden Care
,
Xeriscape
,
Design
,
Green Landscape
,
Commercial
,
Annuals & Perennials