5th Annual DPS 8th Grade Career Fair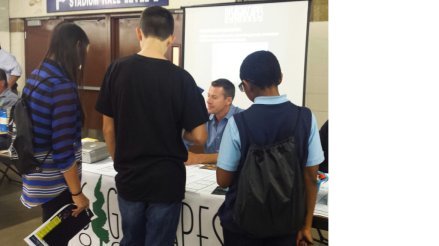 This week Designscapes Colorado's design team participated in the Denver Public Schools 8th grade Career Fair. Companies in many different fields attended to give students more insight into their profession. The goal of the fair was to educate and inspire the 8th graders and to encourage them to plan on furthering their education after high school. Other career fields represented were: agriculture and natural resources, STEM, arts and design, skilled trades, human services, and health science.
Students in attendance were encouraged to ask interview questions and were given a career booklet to fill out. The students were also encouraged to exhibit professional and positive behavior. Rewards and prizes were given out to students who were setting an example for their fellow classmates during the career fair. 4,000 Denver Public School students were involved in the 8th grade career fair this year.
Designscapes Colorado's staff has enjoyed participating in the career fair for the past three consecutive years. Designscapes Colorado is committed to helping the community and supporting the students in the Denver Public School System. Education and awareness is the first step to helping young students reach their goals. The career fair is designed to give the students something to aspire to. At Designscapes Colorado we believe that having goals and aspirations is something that should continue throughout your entire life.
Contact Designscapes Colorado for more information at, info@designscapes.org.