2016 Popular Trendy Garden Ideas
Garden and Landscape Designers shaping our industry has provided an unfolding report on 2016 Gardening Trends.  The Garden Media Group released the 2016 Gardening Trends Report "Syncing with Nature". Become a modernist and get involved in the conservation movement to restore our land in order for it to be able to provide the essential resources we need to thrive.  Lets see what's already trending in 2016…

                    Connected Greenery
This technique utilizes technology to help grow plants indoor and in the garden without a lot of work or gardening knowledge.  The idea is to sync garden habits with technology and garden hobbyist with each other.
NaTECHure
When trying to engage kids in health, fitness and gardening in fun innovative ways NaTECHure may be the way to go.  It is a collaboration of two of the hottest trends in education: technology and nature.  The objective – getting people out of the house, enjoying outside and digging in the dirt again.
Welltality 
In the spirit of keeping a continuing upward momentum for environmental awareness, horticulture is directly tied to health and wellness.  Plants help people think faster, concentrate better and elevate people's moods.  Place a few plants strategically around your house and office.
The Marks Lifestyle
Personalizing your outdoor living space to shift the DIY movement

from "doing" to "making."  Allocating your own personal style and marking gives it that personal touch that you can call your own.
Backyard Boldness & Nightscapes 
Breakout Bold!  Light graffiti, multifunctional planters and colorful plants can make a statement.  Taking a broader approach like transforming swing sets, swimming pools, and installing customized LED lighting/speaker combos can add a sense of whimsicality to your landscape.
Layered Landscapes 
For people who want to restore their landscape back to its natural habitat, layered
landscaping allows each plant to serves it's purpose in supporting the local, natural ecosystem, pollinators and other wildlife.  If you want to become part of the restoration solution begin by purchasing plants for their functionality as well as for their beauty.
Petscaping  
A safe lawn and garden begins by creating a chemical free environment for your pets.  Our pets run through the lawn, roll around in it, dig it up and often eat it.  Protecting our pets from poisonous plants and harmful chemical is just as important as protecting our precious plants from our pets.
   Precious Resources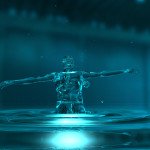 This trend incorporates necessity with innovation.  Protecting and conserving our resources with small lifestyle changes will make a huge impact on your landscaping experience.  Keep in mind that the resources we depend on to garden, namely water, is limited and must be preserved.
---
We would be pleased to assist you reach your goal of "Syncing With Nature". Contact the Designscapes team at info@designscapes.org and begin the trend!
This entry was posted in
Trees
,
Water Features
,
Pools & Spas
,
Outdoor Living Spaces
,
Outdoor Fireplaces & Fire Pits
,
Gardens
,
Residential
,
Pots & Planters
,
Lawn & Garden Care
,
Xeriscape
,
Design
,
Green Landscape
,
Designscapes News
,
Commercial
,
Annuals & Perennials